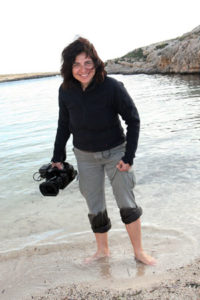 I have worked on a variety of projects for different production companies, independent television stations as writer, director, producer, executive producer as well as for Italian public broadcaster RAI.
Although I have enjoyed these experiences because of the diversity of issues and the professional challenge they have represented, in 1995 I began to work for UNICEF and WWF as a regular contributor and have found my true calling. Connecting with the different project and the enthusiasm of the people involved made me feel truly committed to the agency's mission.
The challenge to "translate" the great variety of stories behind the facts and figures into pictures is one of the most satisfactory aspects of my career.
The Mediterranean
In the last few years my focus on the Mediterranean sea brought me to many Marine Protected Areas to gather every aspect of their management. I am working with all the stakeholders involved, in order to strengthen their efforts to protect both marine ecosystems and their communities. My collaboration with the WWF Mediterranean programme and the FAO/GFCM has enhanced my knowledge of marine issues and how to bring the subject across.